24 Feb
The leader said the humiliating defeat in the Cumbrian seat of Copeland was "very disappointing", but insisted he would not be standing down.
He is facing calls to consider his position after the Tory victory, which is the first gain by a governing party in a parliamentary by-election since 1982.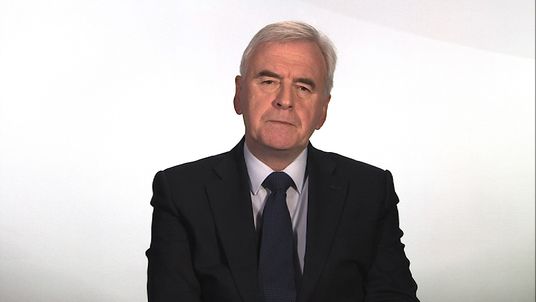 But striking a defiant tone, Mr Corbyn said: "I was elected to lead this party. I am proud to lead this party.
"We will continue our campaigning work on the NHS, on social care, on housing."
Mr Corbyn also pointed to Labour retaining Stoke-on-Trent, albeit with a reduced vote share and majority, in the face of a concerted challenge from UKIP leader Paul Nuttall.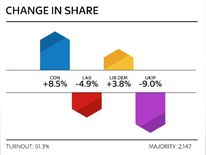 :: Corbyn election win impossible after Copeland
Taking questions following a speech in London, he said: "Our party membership is in good heart, it's very large, very strong and we are going to be out again tomorrow and every other day campaigning to get the message across of social justice in Britain."
Visiting Copeland to congratulate the victorious candidate, Tory Prime Minister Theresa May said: "This is an astounding victory for the Conservative Party but also for the people of Copeland.
"Labour have held this seat since the 1930s. A party in Government hasn't won a by-election in a seat held by the opposition for 35 years.
"And what I think we have seen from this victory is that this truly is a government that working for everyone and for every part of the country.
"And that's the message that we bring here to Copeland and that will take across the country."
Earlier, shadow chancellor John McDonnell urged Labour to unite after the loss of Copeland, which he blamed on "unique circumstances" because of the importance of the nuclear industry to its local workforce.
He claimed "disinformation and misinformation" from the Tories about Mr Corbyn's stance on the nuclear issue had undermined support for Labour.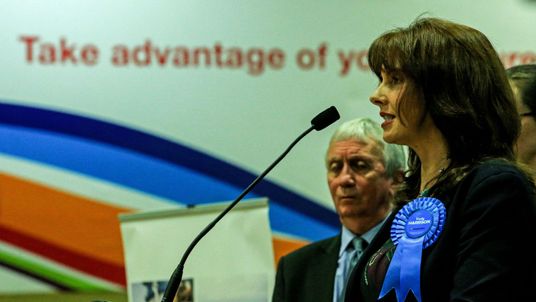 Mr McDonnell said: "For the last 20 months the Labour Party has come across divided because we have had two leadership elections, so the message is to unite as a party and hold the Government to account."
Responding to critics of the party leader, Mr McDonnell said: "There are still a few people who have not accepted Jeremy Corbyn as leader.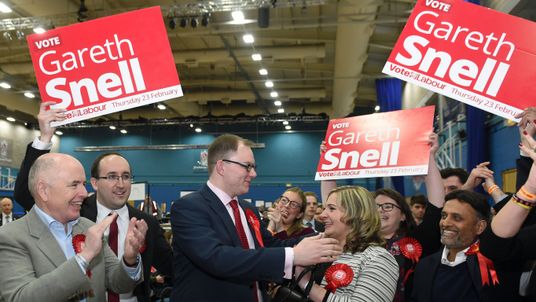 "The vast majority of our supporters and members of the party want a united party campaigning together."
The Conservatives' Trudy Harrison snatched victory in Copeland, taking 13,748 votes to 11,601 for Labour's Gillian Troughton.
In a seat held by former Labour MP Jamie Reed with a 2,500 majority at the 2015 general election, the Conservatives increased their vote share by more than 8%, while Labour's was down nearly 5%.
Senior Labour backbencher David Winnick said it had been a "disastrous" result for the party and urged Mr Corbyn to consider his position.
Mr Winnick said: "The party is faced with the problem of a leader who is simply not acceptable to a large number of people who would normally vote Labour. That it is an obstacle and it would be wrong not to recognise that.
"It is now entirely up to Jeremy and those close to him to decide what is best in the interests not simply of the party but the people we are in politics to represent."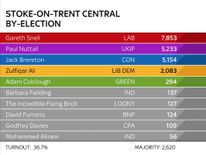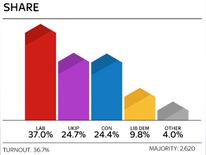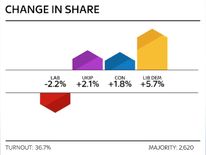 In Stoke-on-Trent Central, Labour's Gareth Snell won comfortably with 7,853 votes to Mr Nuttall's 5,233.
Although Labour secured a 2,620 majority, its vote share fell by about 2%, while UKIP's went up by the same amount.
Despite his defeat, Mr Nuttall, who was embroiled in controversy over the Hillsborough disaster during the campaign, insisted UKIP was "not going anywhere" and that the party's "time would come".